Ricardo Miranda Blázquez
🇪🇸 Spain
Jazz pianist, singer and musicologist. Graduated
in Teaching at Blanquerna (URL), studied at Aula de Música moderna y Jazz de
Barcelona and Musicology at the UAB, obtaining the Extraordinary Prize in the
degree of "History and science of music". Stands  his regular training for years in piano jazz
with the pianist Lluís Pardelláns. At the same time emphasize training in film
music with the important spanish composer José Nieto, awarded with 6 goyas of
the Academy. In terms of vocal technique, he receives training on a
regular basis from 2011 with Miguel Manzo and later also with Spencer Welch,
Guy Babusek and Jeffrey Skouson among others from 2015 whithin the programme of
the Institute For Vocal Advancement (IVA).
He began in the entertainment industry from a
young age playing the piano in luxury hotels and nightclubs of Barcelona:
Princess Sofia, Hilton, Up & Down, Arts, Le Meridien, World Trade Center,
La Cova del Drac and Jamboree. At the beginning his performances were as solo
singer pianist but since 2001 deepen in the Repertoire of the American
Songbook, jazz standards and Broadway musical themes. From that moment he acts
regularly in duo formation with the female jazz singer Elizabeth Castro.
Together with Elizabeth edit the disc "Jazz Looking For You" in 2004
with their own songs and intimate arrangements of jazz standards piano. The
album had their impact in appearances in newspapers, radio and tv (La
Vanguardia. El Periódico, RNE, magazine of cinema "Imágenes de Actualidad",
etc.) Ricardo Miranda has also worked this repertoire of classic vocal jazz in
a quartet formation. Throughout his career he has known plenty of acclaimed
artist, musicians and intellectuals such as Terenci Moix, Emilio Aragón
"Miliki", Compay Segundo, Tom Jones, Van Morrison and Progressive
Rock group "Yes".
Since he began to work as a teacher in 2002,
alternates performances with teaching. He has taught courses in Didactics of
music, Broadway musical history, music and cinema at the Col·legi de Llicenciats
de Catalunya  intended primarily for
music teachers, has also been instructor of teachers and prepared them for competitive
examinations to become teachers in the public educational system. Currently
teaches music at a secondary school in Barcelona where his teaching project is
based on the vocal education for teens around the Repertoire of pop and musical
theater. Ricardo as singing teacher, certified IVA instructor, develops his
activity at the Gershwin Vocal Studio where is also a founding partner.
Pianista de jazz, cantante y musicólogo.  Diplomado en Magisterio en Blanquerna (URL),
estudia en el Aula de Música Moderna y Jazz de Barcelona y musicología en la
UAB, obteniendo el Premio Extraordinario en la Licenciatura de "Historia y
Ciencias de la Música". Se destaca su formación regular durante años en piano
jazz con el pianista Lluis Pardelláns. A su vez resaltar también la formación
en música de cine con el importante compositor español de bandas sonoras José
Nieto, premiado con 6 goyas de la Academia. A nivel vocal, recibe formación de
manera regular desde 2011 con Miguel Manzo y más adelante también con Spencer
Welch, Guy Babusek y Jeffrey Skouson entre otros desde 2015 dentro del programa
del Institute For Vocal Advancement.
Empezó en el mundo del espectáculo desde muy
joven tocando el piano en hoteles de lujo y salas de fiesta de Barcelona:
Princesa Sofia, Hilton, Up & Down, Arts, Le Meridien, World Trade Center,
La Cova del Drac y Jamboree. Al principio las actuaciones las realizaba como
pianista cantante solista pero desde 2001 sus actuaciones profundizan en el
repertorio del American Songbook, standards de jazz y temas de musicales de
Broadway. Desde ese momento actúa de manera habitual en formación de dúo con la
 cantante femenina de jazz Elizabeth
Castro. Junto a Elizabeth edita el disco "Jazz Looking For You" en 2004 con
temas propios y arreglos intimistas de piano de standards de jazz. El disco
tuvo su repercusión en apariciones en prensa, radio y tv (La Vanguardia. El
Periódico, RNE, revista de cine "Imágenes de Actualidad", etc.) Ricardo Miranda
ha trabajado este repertorio de jazz vocal clásico también en formación de
cuarteto. A lo largo de su carrera ha conocido multitud de artista consagrados,
músicos e intelectuales como Terenci Moix, Emilio Aragon "Miliki", Compay
Segundo, Tom Jones, Van Morrison y el grupo de Rock Progresivo"Yes".
Desde que empieza a trabajar como profesor en
2002, alterna las actuaciones con la docencia. Ha impartido cursos de didáctica
de la música,  historia del musical, de
música y cine en el Col·legi de Llicenciats de Catalunya destinados sobre todo
a profesores de música, asimismo ha sido preparador de  oposiciones para profesores de música que desean
ser docentes en el sistema educativo público. En la actualidad da clases de
música en un Instituto de secundaria en Barcelona donde su proyecto docente se
basa en la educación vocal para adolescentes alrededor del repertorio de pop y
teatro musical. Ricardo Miranda como profesor de canto, instructor certificado
en la técnica vocal IVA,  desarrolla su
actividad en el Centro de voz Gershwin Vocal Studio donde es también socio
fundador.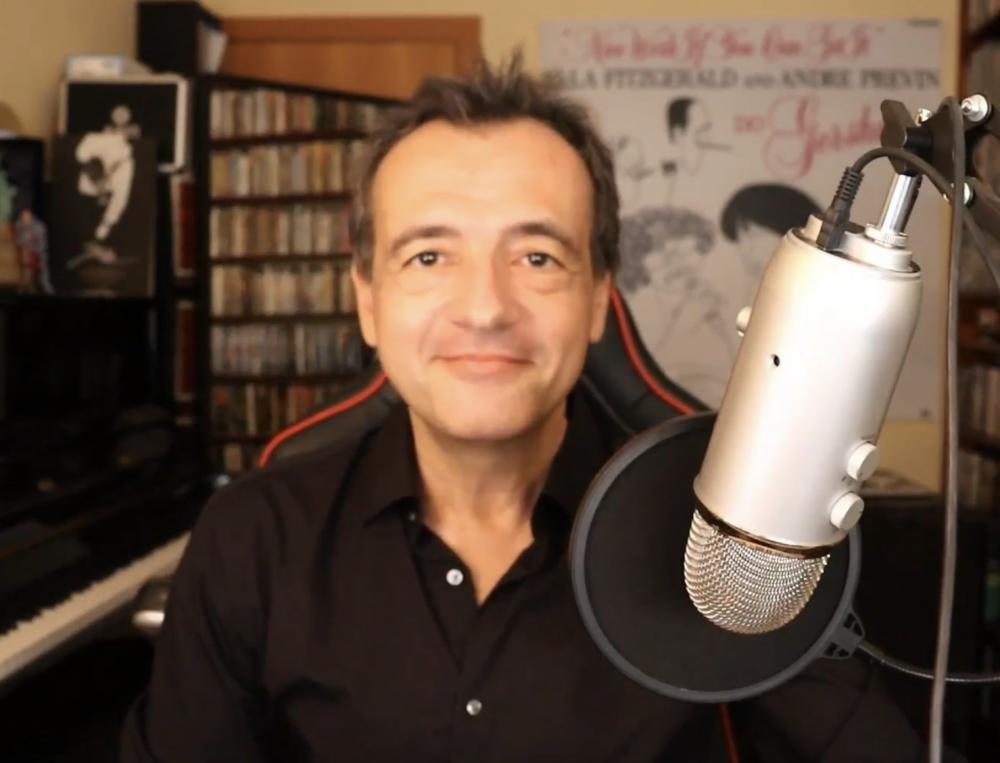 Provides In-Person Lessons
Provides On-Line Lessons
Gershwin Vocal Studio
Barcelona
Spain