IVA welcomes all teachers of singing who are interested in pursuing our instructor certification program, which offers quality vocal education for voice instructors worldwide. If you would like to find out more about becoming a teacher, there are a few easy steps you can take to learn more about it.
The journey to becoming a certified IVA instructor starts with applying as an IVA Student Teacher.
You may also want to look up who your Area Representative is; a person responsible for your area who can answer any questions you may have about getting certified.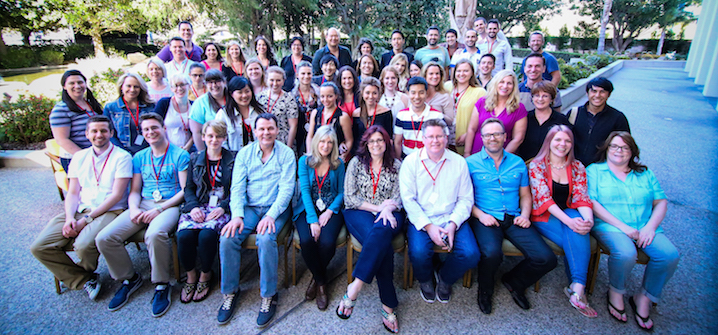 Who is the IVA certification for?
Beginning voice instructors looking for high quality teacher training and education
Experienced voice instructors seeking education to refine their skills and teaching
Singers and voice teachers who are committed to their ongoing vocal and pedagogical development
Benefits of the IVA Program
There is no other organization that offers more of a wide variety of education specifically for the teaching of vocal development than IVA does.
As an IVA teacher, you will earn a certificate which represents the highest quality vocal education and pedagogy. You will have access to the benefits of a highly professional organization that strives to serve you and meet your specific needs as a teacher of singing.
You become a part of a network of highly-trained and talented vocal instructors which provides the optimal environment for your continued growth and education.
As a Certified Instructor, you have access to our yearly teacher conference, IVACON, teacher-trainings, master classes and workshops right in your area, as well as online training in the form of webinars. Our education will help you to understand how the voice works and how you can continually improve your teaching in order to quickly diagnose and fix problems in any voice, and also how to develop voices of a professional calibre that can meet the demands of modern careers in singing.
In addition, you will have access to education in many areas of singing such as performance, musicianship training and style coaching across multiple genres of singing.
As a licensed IVA teacher, you will be able to market and promote your teaching with the IVA name and logo.
Prerequisites and Application Process
To qualify as an IVA Student Teacher there are prerequisites that you must meet to be accepted into the program. If you meet and pass the prerequisites you will be accepted. If you do not meet the criteria, please get in touch with IVA as we can help you complete the qualifications.
In order to be admitted to the IVA Teacher Certification Program one requirement is a reference from an IVA Master Teacher (MT). To receive this reference you must have taken at least one 60-minute lesson with an MT. During this lesson the MT will assess your skills and see if they meet the standards necessary to join the program.
If the Master Teacher concludes you don't meet the necessary criteria but with some work it could be achieved, they will ask you to take a further course of up to three, additional 60-minute lessons. If more instruction is necessary please contact Corey (corey@vocaladvancement.com) with IVA and you will be given detailed feedback on what to work on and then asked to apply once you and the Master Teacher decide you're ready.
Prerequisites for admission to the program
To apply for admission to the program you must meet the following requirements:
You must be at least 18 years old
Basic vocal musicianship skills, at the very least the ability to sing a song in tune and time
Working toward a basic understanding of English
Ability to play all six main IVA scales on the piano in all keys verified by the IVA Master Teacher (MT)
Reference from an IVA MT taken within three month of applying to the program. Therefore, you must have taken at least one 60-minute lesson with one of our MTs. The MT may request up to three additional 60-minute lessons before completing your IVA reference.
The Application Process
Read the 2018 IVA Information Guide to see what's involved in being an IVA teacher
Complete the online admission form. Please select the IVA Master Teacher (MT) you plan to study with or have already studied with for your initial reference
We will send you a confirmation email once we receive your application
The MT will assess your application and, if necessary, ask that further lessons be taken with them before providing your reference to join IVA
You will receive a confirmation email if you are approved, inviting you to create a login for the IVA Teachers' dashboard
You then pay the one-time $450.00 USD Student Teacher Program Fee (non-refundable)
You will receive your "Welcome Email" after IVA receives your Student Teacher Program registration fee, a copy of the Student Teachers guide, and full access to IVA's online system. You can then begin your IVA teacher education