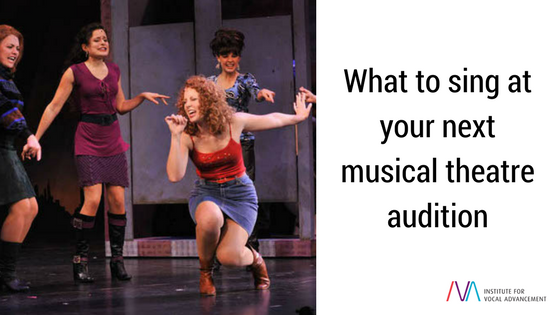 Chelsea Calder, our resident Musical Theatre expert, shares some pro tips on how to prepare for, and excel in, your next audition.
Follow the directions
Find out what you are being asked to prepare and stick to it! Requests for 16 or 32 bars should be observed as closely as possible. If they ask for a "short song," that usually means a verse and a chorus of something. There's no reason to sing all seven minutes of "Meadowlark"; in fact, I guarantee you will get cut off before getting through most of it. Find an excerpt of a song that showcases your voice, tells a story, and adheres to the audition posting.
Do your research
Are you auditioning for a 1970s pop musical or a contemporary folk show? Choose a song that is similar to the show you are auditioning for. It's always a good idea to familiarize yourself with the other works of the composer/lyricist, and it's often a safe bet to choose an audition piece by them or their contemporaries. Unless expressly asked, don't sing a song from the show you are auditioning for. Also, when possible, find out who will be attending the audition: will it be the director, musical director, or a producer? What projects have they recently worked on? Maybe avoid material from those shows to avoid a direct comparison.
Choose a real pop song
More and more shows are jukebox musicals (meaning the score pulls directly from certain artists' catalogues like ABBA's Mamma Mia! and the Four Seasons' Jersey Boys) or are written by pop/rock artists (like Cindy Lauper's Kinky Boots and Sara Bareilles' Waitress). These shows almost always will ask that you bring in a real pop/rock/country/folk/disco song, in which case—bring it! Don't choose a pop song or arrangement that is found in another musical (like the various 80s classics arranged in the musical Rock of Ages). Choose something by one of your favorite artists that is authentic to the period of the show you are auditioning for. Check out my friend Sheri Sanders' site for everything you need to succeed at a pop audition: www.rock-the-audition.com.
Avoid signature songs
These are songs associated specifically with a famous artist. For example, "Over the Rainbow" is Judy Garland's signature song, or "People" and "Don't Rain on My Parade" are Barbra Streisand's. It is best to steer clear of songs where you will be directly compared to legends. You should also avoid anything that is currently on—or that has been on—Broadway in the last three years, as well as the huge juggernauts Wicked, Les Misérables, The Phantom of the Opera, and whatever the new hot shows are (which, at the moment, are Hamilton and Dear Evan Hansen). Do yourself a favor and sing something that ten other people won't also be bringing in.
Prepare your sheet music!
We'll go into more detail on this in a later blog post, but suffice it to say—have a clean and clearly marked copy of your sheet music, three-hole punched, and in a binder. Give your accompanist all the information they need to make it a successful audition for you.
There are exceptions to these rules
Like, if the audition call clearly asks for any of the above pieces I just told you to avoid, or if you are preparing music from the show at the request of the creative team, then by all means, prepare what they request. Also, the "rules" can be more strictly (or loosely) observed depending on whether you are auditioning for your grade school play, community theatre, or a West End production. No matter what, it will only help to be as prepared and professional as possible!