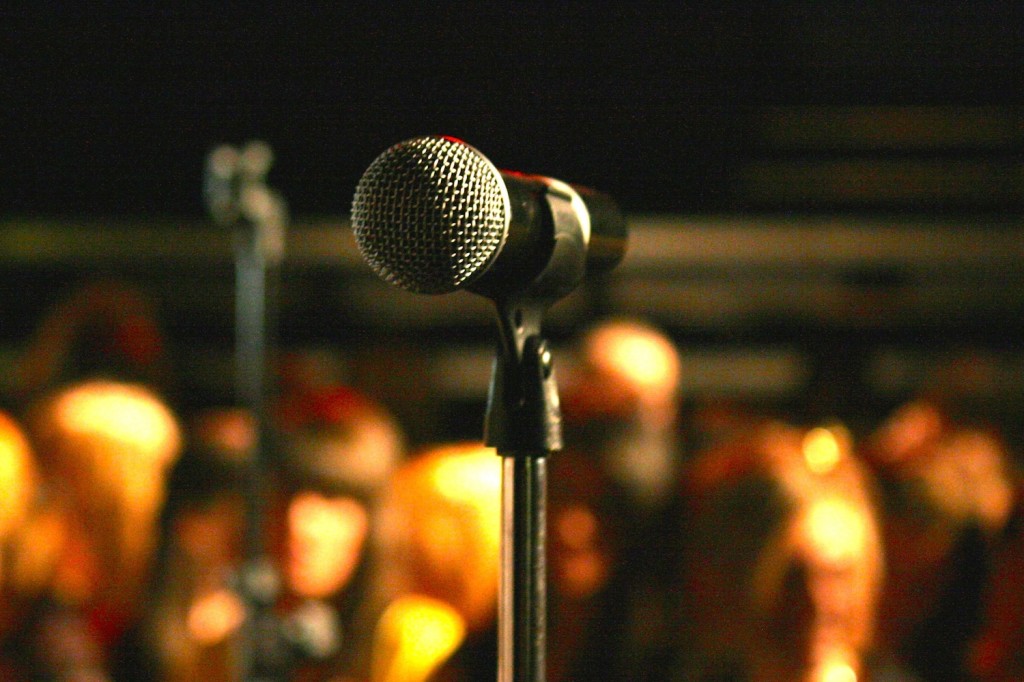 If you already know what stage fright is but want to know how to overcome stage fright, click here: How to Overcome Stage Fright 
So, what is stage fright?  
Butterflies in your stomach
A feeling of dizziness
Sweaty palms and possibly a full body sweat
Losing your voice
Forgetting your words 
Dry mouth 
Shaking
Hyperventilating
All of these are symptoms of stage fright. Stage fright, also known as performance anxiety, is something that all performers dread and have probably experienced at least once. Stage fright affects us all differently. Some people are able to ignore their feelings of fear and continue with a performance, while others are totally crippled by their feelings of anxiety.  
Fight or Flight 
From Wikipedia: The fight-or-flight response (also called the fight, flight, freeze, or fawn response [in PTSD], hyper arousal, or the acute stress response) is a physiological reaction that occurs in response to a perceived harmful event, attack, or threat to survival.
Stage fright at its basic level is your body's fight or flight response to a stressful situation. 
You feel stress and fear and your body tries to cope by pumping adrenaline and other chemicals into your system. These natural stimulants and chemicals are preparing your body to flee the scene, or stand and fight. So even though it doesn't feel like it, your body is actually trying to help you when you experience stage fright! 
You may not be facing a saber-toothed tiger on stage but your body doesn't know the difference. Fear is fear, and your body will react accordingly with all or some of the symptoms described above – and maybe even a few symptoms unique to you. 
Why does it happen?
Now that we have a basic understanding of what stage fright is, we can look more deeply into why it happens.
Our biology hasn't caught up with our way of life. Predators are no longer chasing us on a daily basis, but our brain doesn't 'see' this. The brain still processes stress and fear as though you are under physical attack. The feelings and symptoms you experience on stage are the brain's way of keeping itself and the body alive. 
Let's break down a few of these symptoms to see how they might be helpful in a predator / prey situation:
The most common effect of stage fright is butterflies in the stomach. This is caused by an increase in adrenaline pumping through your body, priming your muscles to either fight or flee the situation.   
Dry mouth and nausea are by-products of your brain shutting down your digestive system. Saliva production ceases, and any leftover food just sits in your digestive system waiting to be processed. No need to process food when a predator is chasing you!
Hyperventilating and excessive sweating are both by-products of an increase in blood pressure. The brain is trying to increase the amount of oxygen in the body by making you take lots of shallow breaths, otherwise known as hyperventilating, and getting it around the body as fast as possible. Excessive sweating is an unfortunate side effect of increased blood pressure; your body is trying not to overheat, but also maintaining the work of the two most vital organs – the heart and lungs.
All of the above symptoms are preparing your body to either run for the hills or stand and fight, and there are many more ways that your body works to defend itself. These same symptoms are often what people feel on stage. For some people just knowing this information may be enough to help them adjust to these symptoms. Sometime it helps to know – 
You are not crazy! You are not out of control! You are having a natural and deeply ingrained response to stress and fear of a perceived danger. 
So now that you know what stage fright is, why it happens, and how can you overcome it? Click here to learn how to overcome stage fright – and please write in with any questions you have. We're here to help!