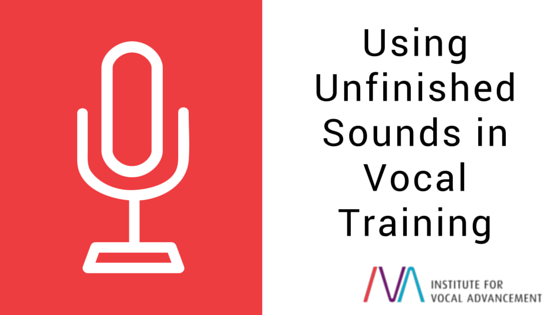 When you first begin to build vocal technique with your teacher, it is often most expedient and advantageous to work with different parts of your voice in isolation. This entails being given various technical exercises that use sounds that are not appropriate for performance. We call these "unfinished sounds." These exercises may sound unusual and even comical to you.
During these periods of your training it's important you remember this is a very temporary phase in your vocal development. It can often be difficult to comprehend how these odd sounds you are being asked to make could ever possibly help you sound good. Do your very best to refrain from making too many decisions about your voice during these phases. 
If you are not convinced of the efficacy of the exercises you are being asked to practice, you may notice you are somewhat half-hearted in your attempts to produce these sounds during your practice sessions at home, and thus may not gain as much benefit from them; but once you have more understanding of the process, you may find you tend to practice with more frequency and motivation, and can move beyond these odd sounds quite rapidly. 
A good teacher will always reemphasize what is actually happening, and reassure you these temporary sounds are actually doing something good for your voice.  Your teacher will also often demonstrate with their own voice how these odd sounds are actually a way towards building a balanced vocal sound. Hearing a trained singer move back and forth from an unfinished sound to a finished sound can give you a clear example of what the goal of the exercises is.
If you are new to voice lessons and are working with some odd sounds, take heart.  Some of the most legendary voices in history have gone through the very thing you are going through right now.  The more you embrace the process and enjoy it, the more quickly your voice will develop and the sooner you can move on to singing what you really want to sing.