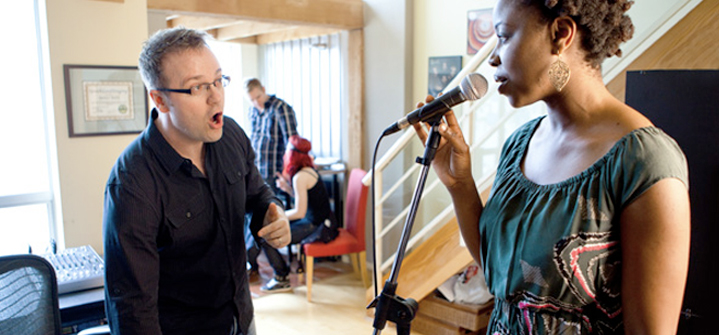 There are many voice teachers out there claiming things like,  "Have an extra octave of vocal range in just 3 weeks!", or "Sing just like …"  These teachers usually boast large celebrity clients lists of who's who in the music and showbiz world (to whom they often have given only a single lesson); but when you get beyond the hype, what should you really look for in a singing teacher when what you are actually wanting is to learn how to sing better?
Technique
The first thing to consider in your search for a new voice teacher is to make sure that the teacher you choose doesn't only teach repertoire (songs) but also a vocal technique that is solid. Many voice teachers will almost exclusively sing songs and give tips to enhance musicianship, but are not trained to actually build the voice properly.
Then there are the voice teachers who claim they teach vocal technique, but have no thorough training in how the voice actually works.  They just pull exercises out of a hat from here and there with no real understanding of what they are doing.
As as singer, a solid singing technique enables you to sing through your entire range in an easy and relaxed manner, with power, flexibility and a consistent tone. If you want to know more about why you need a good singing technique, check out this article.
It's important to find a teacher who has the skills and training necessary to teach you to sing in a natural and relaxed manner through your entire range. This means they will be teaching you how to sing through all the different registers in your range, without any breaks, flips or sudden changes in vocal quality. Training someone to sing in a connected manner like this requires extensive knowledge and the ability to design exercises that are specific to the needs of the individual student's voice.
Breathing: OH MY!
Many voice teachers will spend an exorbitant amount of time working on breathing exercises without actually singing anything. They will tell you that all your vocal problems stem from from problems with your breathing. I don't know about you, but I certainly know how to breathe otherwise I wouldn't be writing this! They claim that singing is 90% breathing. If this were true, every swimmer, yoga teacher and runner in the world would be ready for recording contracts, but we all know this is not the case.
Now while long periods of breathing exercises in order to build "support" (without singing a single note), may help you to improve some of your breathing habits, these exercise on their own won't alone build a strong voice. Breathing is just one piece of the puzzle. The truth is that building breath support for singing can't be done with breathing exercises alone. All good singing exercises build good breath support, but not all good breathing exercises build good singing voices.
You want me to put the sound where?
A good teacher uses effective and simple to understand exercises which get desired results in their lessons while avoiding using nebulous instructions that refer to descriptions of end results. Examples of unproductive instructions are "give it more support", "put it in the mask" or "make it more open."
If you already knew how to get the results these teachers were asking for, why would you need lessons? Look for a teacher who gives you exercises that give results and not spend 20 mins describing how it should feel.
Have you heard your teacher sing?
So can they put their money where their mouth is? It's important to see whether a teacher can demonstrate the concepts they are teaching in their own voice. Should you hear a "break," vocal strain, or if the teacher is not be able to sing in either their chest or head voice, you had better continue your search. This doesn't mean that you should expect your voice instructor to be a world-class singer, just that they are able to demonstrate the healthy functions of a well-trained voice.
Who are they teaching?
Listening to a teacher's students can also help to make your decision. A sign of a good teacher is one who has students from both genders and multiple genres of music. Of course it's not possible for any teacher to have 100% of their students be excellent singers, but if they all share common vocal problems (if they all have breaks in their voices, sing in a breathy manner, have no vibrato or wobbles, or sound like they are yelling), chances are the teacher is not an effective one.
After the first lesson – debrief
So you picked a teacher and took a lesson. Now you should have a better idea of if the fit is right.
Ask yourself these questions:
Does your voice feel tired, over-worked or raw?

Did the teacher do more chatting than teaching?

Did you never get to sing much at all?

Did the teacher spend most of the time explaining anatomy but not give any actual practical training?

Did you spend a majority of the lesson on breathing exercises?

Was the teacher unkind or intimidating to you?
If you answered yes to any of these questions, you may want to look a bit further.
Now how about these questions?
Did the teacher give you exercises that actually helped you smooth out breaks in your voice?

Did your voice feel good after the lesson?

Did you spend more time working on your voice than listening to the teacher lecture?

Did you feel like the teacher had an understanding of what they were doing?

Was the lesson enjoyable?

Did the teacher answer your questions in ways that made sense to you?

Did you sing better after the lesson than you did before you started?
If you answered yes to any of these questions, you may have found someone that will be a good fit for you.
So remember when you are picking a teacher don't be intimidated; it's your money you are spending so make sure they are a good fit for you! Ask questions, do some research about their vocal technique, if possible listen to some of their students, and above all make sure you enjoy your lessons.