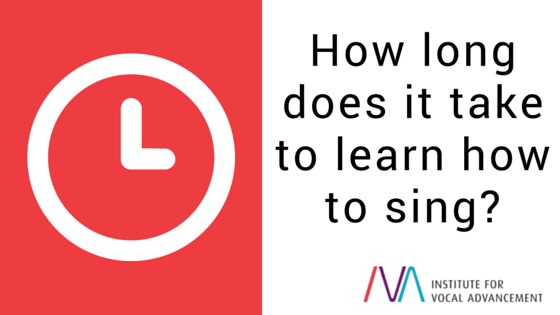 There are many variables in this question so it's a tough one to answer. For example, are you a total novice, or do you have a bit of experience? Have you taken singing lessons in the past, or have you performed with a church choir? Do you have a 'good ear' for notes and pitch? And finally, what is your ultimate goal for your voice? If you want to learn how to sing in order to have a singing career on Broadway, then that is a very different goal than being able to carry a tune on the karaoke stage. 
Take a moment to think about what your goals are for your voice. What is your personal definition of being a successful singer?
Got it? Ok! Now you're ready for the next step –  
Find a voice teacher
A good teacher who can help you work toward your goals is essential to learning how to sing. You will reach your goals much quicker when you work with an experienced singing teacher. 
If you don't know where to start, we recommend you check our Directory of Teachers. 
Also, it will be very helpful for you to know – What to Expect From Your Singing Lessons. 
Mindful Practice
Have you ever gotten to the end of a page in a book and realized that you have no idea what you just read? Unfortunately, it happens to all of us. If we don't focus on what we're reading then we won't get the benefit of the wisdom behind the words. 
It's the same with practicing our singing. You must be mindful and present while practicing, no matter how 'boring' or easy you think the vocal exercise is. 
If you focus while practicing you will quickly become aware of what is going on with your voice, where you need improvement and what is going well. You will develop sensitivity in your voice that is needed to become a good singer. Therefore, when doing an exercise or working on a song ask yourself these questions:
What happens in my voice?
Is the result better than before?
What does it feel like?
Have I improved since the last time I practiced?
Are there things that I still need to work on?  
Set goals
In order to learn how to sing you must set goals. 
Goals give you something to work toward and they clearly define what you want to achieve. After all, if you don't know what you want then how do you know if you're improving?
We have an entire blog focused on Getting Positive Results from Singing Lessons that may help refine your wants.  
Once you set your goals write them down! Revisit your goals often and fine-tune them if needed. Your goals can and should change as you grow as a singer. 
Keep a Practice Journal  
Keeping a practice journal can be extremely helpful. You can write down questions for your teacher, songs that you want to learn to sing and also, note on interesting articles that you've read. Best of all though is a record of your practice and the progress you've made. 
Very often progress happens slowly, so slowly in fact that you may not notice improvements. If you keep a practice journal you will see your improvements in black and white – and this is can be very encouraging.  
Hold yourself accountable
If you really want to learn how to sing you must hold yourself accountable. Keep an accurate record of your practice schedule and show it to your teacher. If that isn't working then you may want to consider a 'practice buddy.' 
A practice buddy is someone who checks in on you to make sure you're practicing – and you do the same for them. You can be accountable to this person and will probably listen to them if they have any sort of criticism for you not practicing.
In a perfect world you wouldn't need someone to nag you about practicing, but we all know our world isn't perfect and sometimes we need extra encouragement. 
As you can see, there are many factors that go into how long it takes you to learn how to sing, but there is one absolute: The sooner you begin, the sooner you can start your adventure of learning to sing!