We are repeatedly asked a variation of the same question –
How many singing lessons will I need before I see the results I want in my voice?
How many lessons do I need?
If I want to reach my goal how many voice lessons will I need?
What do I have to do in order to achieve results from my lessons?
The answer is: It depends. Do you just want to learn to carry a tune or do you want to become an outstanding singer? Obviously, the first will require a lot less time than the second.
You have to ask yourself:
What are my goals for my voice?
How committed am I to achieving those goals?
What is my voice like now, and how much do I want it to grow?
How long have I been singing?
What bad habits do I have and am I willing to replace them?
Comparing your current level of development as a singer to the goals you have is the most important indicator for the time frame you should expect to meet your vocal goals. Also, consider that some people are faster learners and for others it takes time to acquire new skills.
However, the two most determining factors for the speed with which you reach your goals are the quality of the vocal instruction you receive and the regularity of your practice.
Singing technique has been refined over centuries and we are very fortunate to have a wealth of information regarding vocal instruction.The IVA technique gives you the tools to help your voice immediately, but the changes don't last unless you're committed to practicing.
Remember, anything worth working for is… worth working for! You can get results from singing lessons.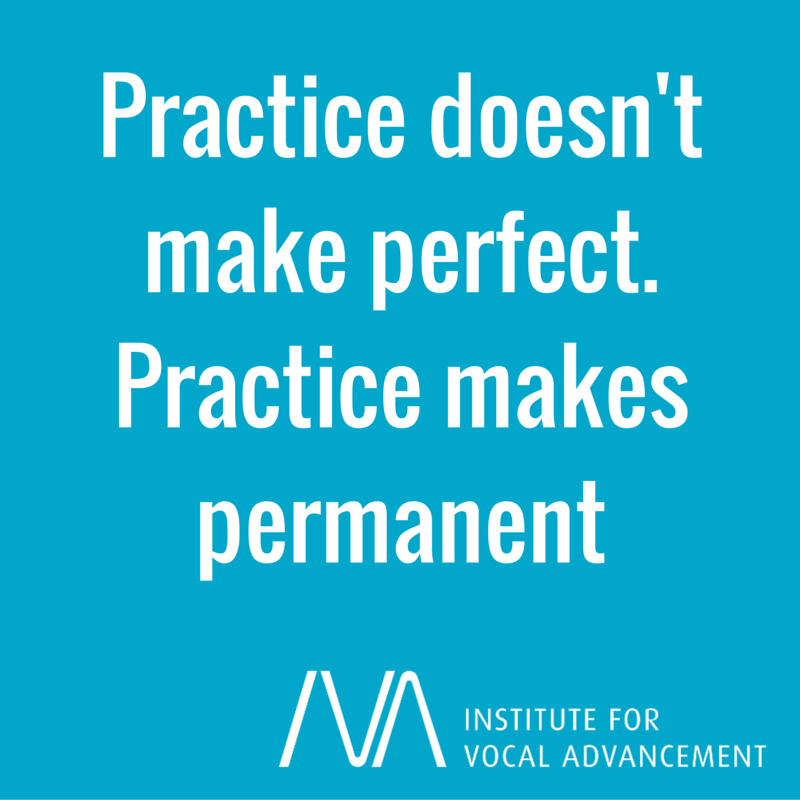 Think about building your voice like building a house.  You wouldn't paint the house or lay down the carpet before you've built the foundation, walls and roof, would you? Your voice is the same.  You can't put the finishing touches on something to make it "perfect" until you have the fundamentals in place. The results you experience, along with your goals, will grow and evolve as you learn new skills.
For singers who are serious about developing their voice in a healthy and lasting way, progress is ongoing. You can't have one lesson and expect your voice to be finished.
This doesn't mean that it will take years until you see results. In fact, it is quite the opposite.  Most people see results in their voice after their first lesson and hear a difference almost immediately. However, you need to practice regularly so that these positive results becomea habit. Don't get frustrated with yourself if you think your goals for your voice aren't happening fast enough. Practice and patience make all the difference.
So what do I need to do to obtain results from singing lessons?
To begin with, take regular lessons! Most professional singers still take lessons consistently.  As a beginner you definitely should.
The more often you have lessons, the better. We recommend weekly lessons if possible.  Even half an hour with an IVA teacher is beneficial. You will then be working toward the results you want. As IVA teachers we continuously change and refine our teaching plan for your voice as it develops.  This challenges you and your voice in order to ensure positive results.
There is no magic pill or quick fix! Regular lessons and practice are the best way to achieve positive results. As for how long it takes to see results, it depends on a number of factors. What your goals are, where your voice is presently, and how dedicated you are in making changes to reach those goals.