Alwyn De Los Santos
🇦🇺 Australia
@alwyndelossantos
Managing Director - @o.t.s.music 
Head Vocal Instructor - @musiconsentry 
IVA Certified - Vocal instructor 1 
Vocal Coach for Western Sydney Artists
Alwyn De Los Santos offers services of in person and online interactive private lessons specialising with amateur, intermediate and advanced vocalists, he is a professional vocalist with up - to 10 years experience of vocal training and high standard of performance credentials (Specialising in Contemporary Performance). 
Alwyn has assisted many HSC students into achieving band 6's to then later than becoming successful musicians in the music industry as well as coaching established western Sydney artists. 
Now continuing on his 6th years of teaching experience with acquired certifications of "Institute for Vocal Advancement vocal method - IVA certified vocal instructor 1) (2019 - 2020) & Bachelor of Music with Specialisations of Contemporary performance - Vocal major, Alwyn believes good technique is of primary importance for a well functioning balanced voice which is an essential if a singer/ Artist wanting any degree of flexibility or longevity.
Alwyn is a Pop RnB/Soul singer based in Sydney with respect and love for all music, singing and professionally performing by the age of 14 he is exposed to great artists throughout the decades from influential icons have helped shape and mould into the artist and teacher that he is today. 
Alwyn is a working musician within Sydney's music scene who is currently working on original music, he is deeply passionate to work with up and coming vocalists and well established artist's to provide high quality and effective services of nurturing and maintaining good vocal health for the individuals demands
Areas of Expertise;
⁃ Microphone technique 
⁃ Vocal instructing 
⁃ Contemporary singing 
⁃ Artist development
- Vocal coaching 
⁃ Contemporary performance
⁃ Performance development 
⁃ Producing 
⁃ Audio recording 
⁃ Mentoring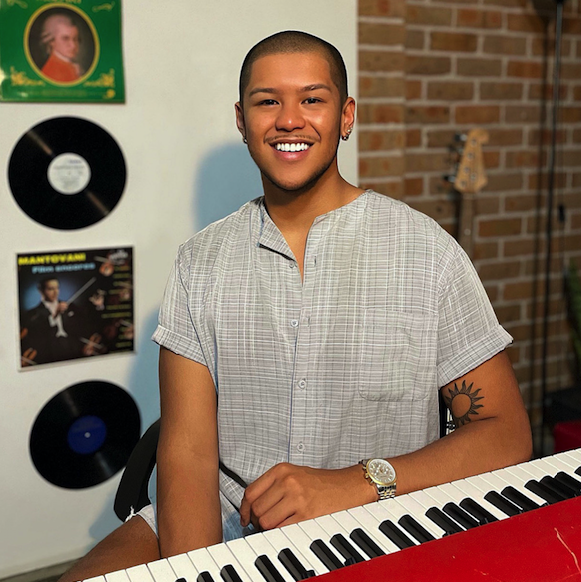 Provides In-Person Lessons
Provides On-Line Lessons
Alwyn De Los Santos
Sydney
Australia